Our Mission: To create opportunities for people to connect with each other away from the screen.
Our history
Since 2016, Geek Adventures has been bringing outdoor adventures, camping rentals, local hikes, and digital detox events to STEM (science, technology, engineering, and math) professionals. From Iceland to the Grand Canyon, and local hiking groups in 7 cities (Hiking with Geeks), Geek Adventures has made it it's goal to connect geeks in the outdoors.
Camping Exchange
Through relationships with some of the most respected outdoor gear suppliers in the world, Camping Exchange by Geek Adventures is your camping store for gently used and new camping gear. We're here to help, advise, and make sure you get the right equipment for your adventure.
From the founder of Geek Adventures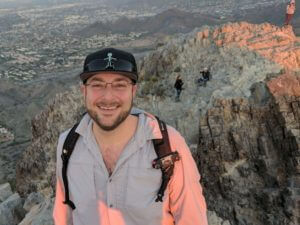 After realizing in '14 that I would say I love to hike but was doing nothing to actualize it, I moved to Austin, TX. I started hiking on a regular basis during lunch, and when I traveled, I would find the closest overlook or hiking spot. To this day, I still do. In-fact, I've hiked in some of the most incredible places from Maui to Europe.
Working in tech is fun because it challenges the mind, but there's more to life than gadgets and gigabits. I know how hard it can be to turn the phone or computer off. From midnight email emergencies to obsessively checking Facebook for how many likes a recent post received, feeling controlled by our digital devices is an all-too-common feeling. Geek Adventures was created for every kind of self-identifying geek that wants to shed the digital world for a few days, and get back to the basics — real people, real conversations, real connection — the real world. It might feel weird at first, but letting the battery run out while spending time talking, laughing, playing, or singing with other geeks around a fire could be the best thing you do for yourself all year.
Leave technology behind, grab a canoe, take an afternoon nap by the lake, hike a trail, play a board game, go on a scavenger hunt, shoot some hoops… minimal schedules, lots of fun, incredible memories.