Camping in houston, a guide to Houston area camping spots
It's no secret that Houston is big city (the 4th largest in-fact). Often I chat with people from Houston who tell me it's difficult to find nature areas to enjoy during the daily grind. While there are many green spaces within the city, that feeling of really disconnecting immersed in nature can be hard to come by in any city. Luckily there are many options for camping in Houston, you just need to know where to look.
KOA Camping in Houston
Ever been to a KOA campground? If not, it's a social car camping experience with ameneties that make camping feel luxurious. The KOA campground near Houston is a short one hour drive from city center (right outside Sam Houston National Forest), and boasts a hot tub, swimming pool, sauna, dog park, fishing, and even wi-fi. Tent, RV, and cabin camping are reservable at Lake Conroe / Houston North KOA.
Brazos Bend State Park
Looking for something a little more rugged — you know — a more traditional camping experience? This Houston camping spot at Brazos Bend State Park comes with alligators and 37 miles of hiking trails. Think all that sounds cool? In-between fishing and hiking, head over to the George Observatory (open on Saturdays from 3 to 10 p.m.) for a star party! "Stargazers marvel at the night sky through the George Observatory's telescopes, far away from the light pollution of the big city. It is truly a sight you won't want to miss!". More on admission to George Observatory here.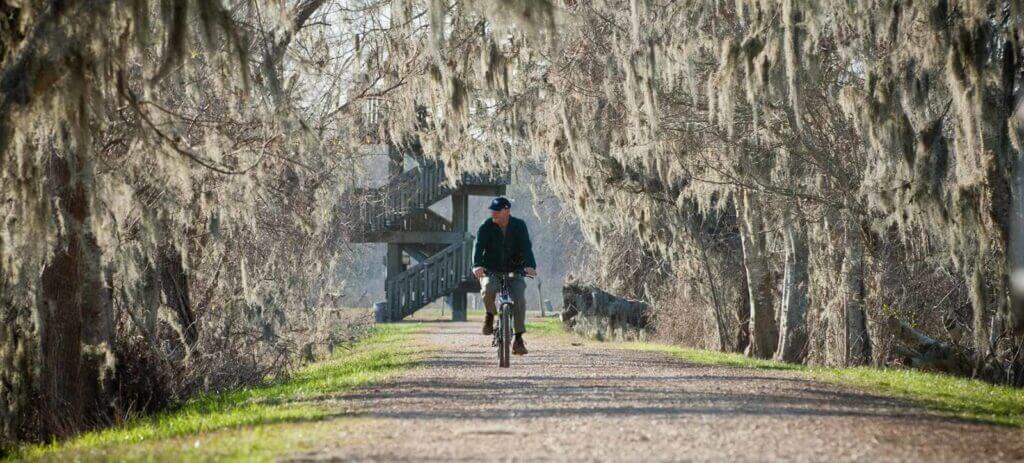 HipCamp and Recreation.gov
If you're a choose-your-own-adventure sorta person, you'll be able to find your own perfect camping spot in Houston using either HipCamp or Recreation.gov.
HipCamp is a nifty website that allows landowners to post their private campgrounds, and campers to reserve online. Think of it as the AirBnB of camping. If you're looking for an eclectic sorta experience, you'll likely find it with HipCamp.
Recreation.gov lists campgrounds and experiences available through multiple government agencies (like US Forest Service, the National Park Service, etc). You'll find more traditional experiences at campgrounds you find on recreation.gov.
That's our roundup for camping in Houston. Wherever you end up going, enjoy your adventure and head back here to tell us about your trip! Have you camped at an awesome place and want to tell the world about it? Leave your favorite Houston-area camping spot in the comments.